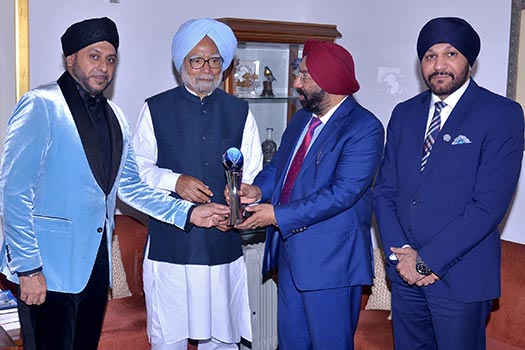 In a first, Dubai hosted 'The 10th Annual Sikh Awards' which recognized and celebrated the achievements of individuals and organizations on a global level. The awards were initiated in response to public demand in 2010 and have since been held in London, Delhi, Toronto and Nairobi. The event was organized by UK-based global organization 'The Sikh Group' in partnership with UAE based 'Plan b Group' at the JW Marriott Marquis Hotel on February 21, 2020.
Recognition is given to the special contribution Sikhs have made in the fields of business, sport, charity, media, entertainment, education, selfless voluntary service, lifetime achievement and the special recognition award, which is given to someone from another faith promoting multiculturalism. The Sikh Awards have continued to grow from strength to strength each year, honouring excellence throughout the world. This year, the Lifetime Achievement Award was presented to Sardar Dr Manmohan Singh, an Indian economist, academic and politician who served as the 13th Prime Minister of India from 2004 to 2014, becoming a first Sikh in office who served two consecutive terms as prime minister. The award was specially presented to him at his residence in New Delhi by Navdeep Singh, Vikramjit Singh Sahney and Harmeek Singh.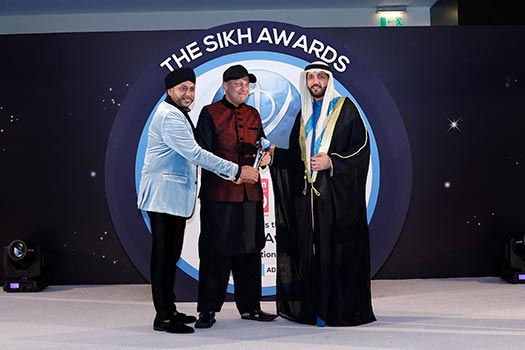 Balvinder Singh Sahni (UAE), Sikhs in Business – Businessman Awardee
Navdeep Singh, founder of 'The Sikh Group', which consists of 'The Sikh Directory,' 'The Sikh 100,' 'The Sikh Charity,' and 'The Sikh Awards,' said 'The Sikh Awards' have continued to grow, honoring excellence since its inception in 2010. The winners are selected from across the globe, by an independent judging panel."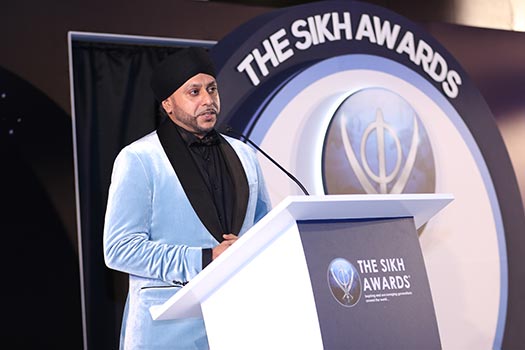 Navdeep Singh, Founder and Chairman of The Sikh Awards during his welcome speech
"This multi-cultural global event aims to honor and celebrate the enormous achievements of the Sikh community, who continue to contribute immensely to the social, cultural and economic fabric of today's global village. We are celebrating two major anniversaries, Guru Nanak Dev Ji's 500th birth anniversary and our 10th anniversary" he said.
Harmeek Singh, founder of 'Plan b Group', said the association with The Sikh Group for The Sikh Awards is an ideal platform under the year of tolerance and a true representation of UAE and humanity. We are delighted to join hands for the 10th edition of Sikh awards.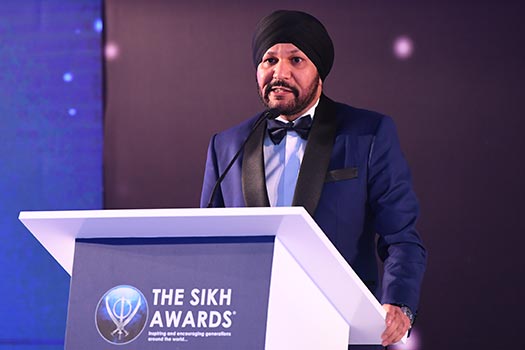 Harmeek Singh, Founder and Chairman of Plan b Group during his speech at The Sikh Awards
This event was attended by over 400 guests of all faiths, from elite international dignitaries to public figures, community heroes, sports stars, celebrities and elite businessmen from India, Canada, Kenya, UK and USA.
Speaking on the selection criteria, Navdeep Singh also added, "A panel of esteemed experts from all faiths examined the contributions made by individuals and organized who filed their nominations online."
The winners are:
SIKH VOLUNTEERS AUSTRALIA (AUSTRALIA) Sikhs in Charity
GURINDERPAL SINGH JOSAN (USA) Sikhs in Education
RISHI RICH (INDIA) Sikhs in Entertainment
CHARDIKLA TIME TV (INDIA) Sikhs in Media
DALVINDER SINGH DARROCH (UK) Sikhs in Sports
SURINDER PAL SINGH OBEROI also known as SP Singh Oberoi (UAE)
Sikhs in Seva
DR. SAGARJEET SINGH AHUJA (PAKISTAN) Sikh People's Choice Award
VARINDER KAUR VIRDY (KENYA)
Sikhs in Business – Businesswomen
JOGINDER SINGH SUNNER (CANADA) Sikhs in Business – Entrepreneur
BALVINDER Singh Sahni (UAE) Sikhs in Business – Businessman
HARWANT SINGH SAHNI (UAE) Special Faith Award
Mr. AMANJEET SINGH – Director of Khalsa Aid India
Khalsa Aid Appreciation
Khalsa Aid is an international NGO with the aim to provide humanitarian aid in disaster areas and civil conflict zones around the world. The organization is based upon the Sikh principle of "Recognize the whole human race as one".
Special Guests –
HE Suhail Mohd Al Zarooni
Mr. Ravi Singh –Founder of the international non-profit aid and relief organization Khalsa Aid.
Mr. Ramdas Athawale – Minister of State for Social Justice and Empowerment, Government of India