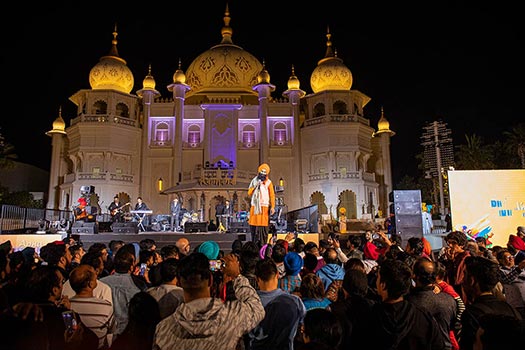 A day long celebration of Punjabi culture happened at the
Bollywood Parks in Dubai Parks & Resort
with a vibrant mix of music, entertainment, food and retail last 31st of January, 2020. While pleasant surprises greeted everyone at every nook and corner of the Apna Punjab (Our Punjab) event, centre stage lit up with host of international and local artists perform including, Sufi singer
Kanwar Grewal
, standup comedian
Gurpreet Guggi
, singing duo
Sahara UK
, and international wrestler The
Great Khali
.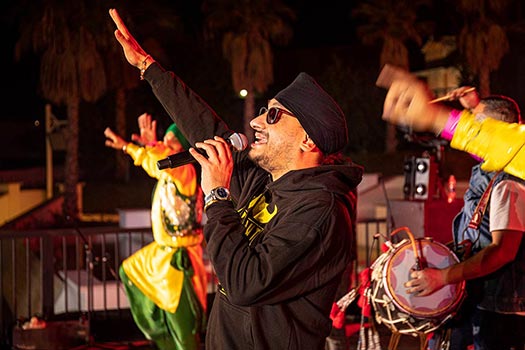 Sahara UK performas during the Apna Punjab at Bollywood Parks
Known for it's unique, colorful and extravagant culture, the park had roaming Punjabi artists displaying unique stunts, martial arts, and traditionally dressed ladies singing and dancing. But not before guests are welcomed by traditional drum (dhol) players to set the mood for a trip into a scene that is a recreation of old Punjab lanes. From colorful mud houses with vintage furniture, women seated around going about their daily chores like churning some lip-smacking beverages, weaving on spinning wheels and creating some unique hair accessories.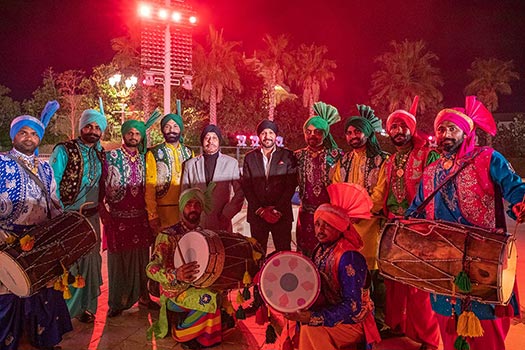 Dhol Musicians with Mr. Harmeek Singh, Founder and Chairman of Plan b Group, and his Father, Mr. Manmohan Singh
Visitors also got a chance to experience some traditional games involving seashells, cycle tyres and stones which children may see for the first time while adults can relive some childhood memories. Workshops include cultural art forms of Punjab and an exciting Bhangra-Zumba session. Kiosks had some exquisite and authentic Punjabi footwear, antique jewelry and artifacts on sale. And true to Punjabi culture, the food was a meat lovers paradise and a vegetarian delight along with a street style food court with authentic offerings.
"Punjab has a charm of its own with a rich culture that makes it stand out globally. Not many know the real Punjab in its purest form which is full of life and embraces everyone with love. The food, culture and music are the facets to showcase Punjab that opens hearts and erases borders. The reason I planned to initiate Apna Punjab is because I felt the need to start 2020 with a beautiful message of peace and love through Punjabi culture," said, Harmeek Singh, Founder and owner Plan b Group.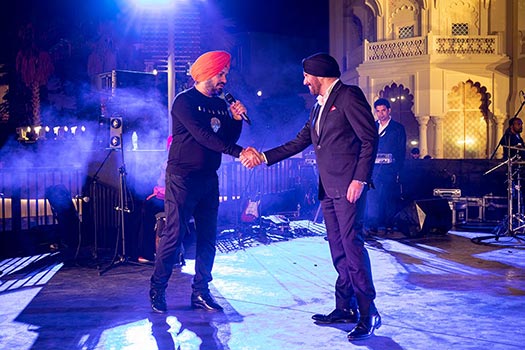 Standup Comedian, Gurpreet Ghuggi and Mr. Harmeek Singh, Founder and Chairman of Plan b Group
"Punjabis are known for their zeal and zest. World Punjabi Organization is proud to be associated in Apna Punjab event celebrating rich Punjabi culture and heritage," said, Vikramjit Sahney International President World Punjab Organization.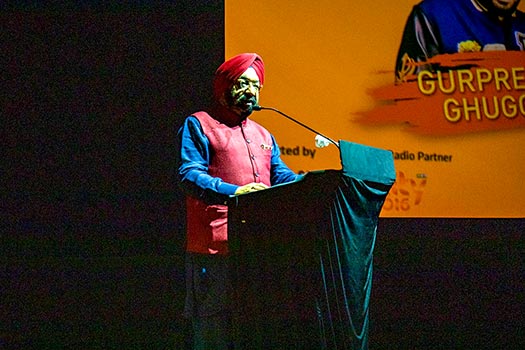 Mr. Vikramjit Sahney, International President of the World Punjabi Organization Speech during the Recognition Ceremony of Apna Punjab